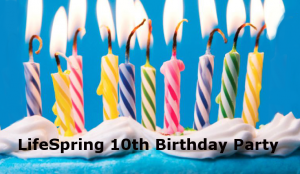 It's hard to believe!  10 years ago, LifeSpring began meeting weekly at Playhouse Merced.  At that time we were a small group of strangers learning what each other's talents were, how we would go about creating a faith community that other's would like to become part of, and how we'd go about taking care of the day-to-day details of being a church.  Ten years later, by the grace and guidance of God, LifeSpring prospers.
Now we're going to CELEBRATE!
We are now 10BD minus 26 and counting.  Slightly more than 3 weeks away from the big weekend.  Lot's of plans are left to be made, but we'll be getting those on the LifeSpring calendar pronto.
Save the Date!  We're going to have a great celebration.