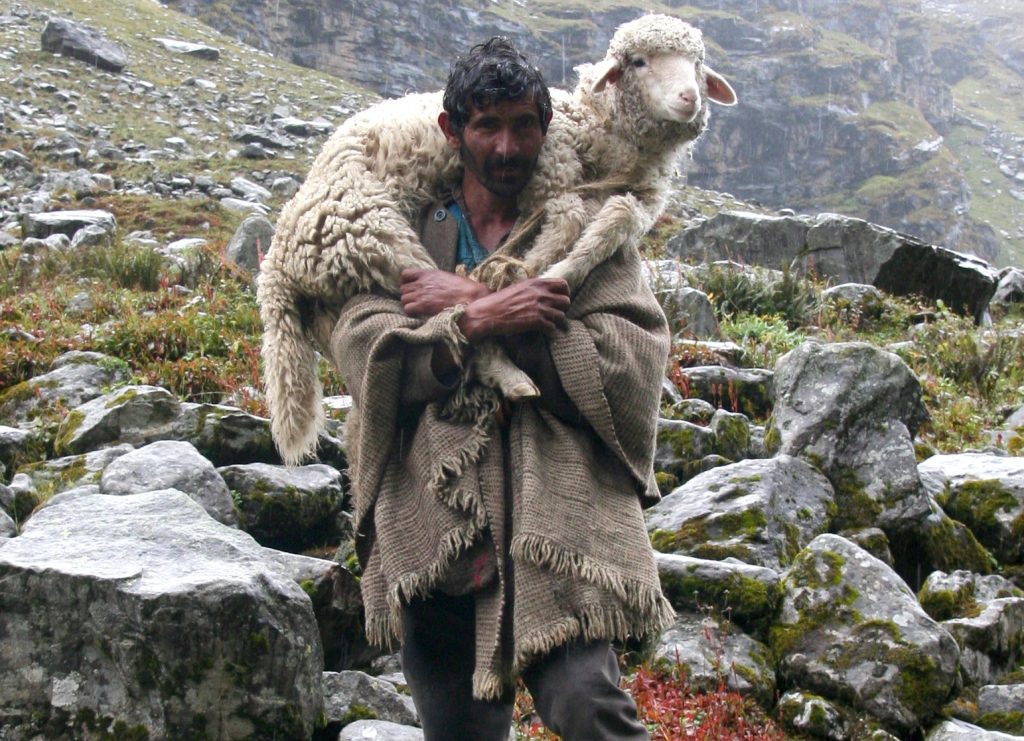 Daily Bible Readings:
Monday, October 5. Read John 10:1-18. 1) How does one know the shepherd from the hireling? 2) What does the good shepherd do for his sheep? Make a list.
Tuesday, October 6. Read Romans 8:12-17. 1) What happens if you live by your sinful self? 2) What does the Spirit do for us?
Wednesday, October 7. Read Ephesians 1:13-14. 1) How does God identify his children? 2) What does Paul call the Spirit?
Thursday, October 8. Read Ezekiel 34:11-16. 1) What will God do with regard to his scattered sheep? 2) How does God behave like a shepherd?
Friday, October 9. Read Jeremiah 2:10-13. 1) How strange or normal does Jeremiah think exchanging one's gods is? 2) What has Judah done that is so shocking? 3) What kind of water source has Judah relied on?
Saturday, October 10. Read Psalm 23. This is Sunday's sermon text.
Prayer for the Week:
Dear Father, we love being in your herd. We know that sheep, left to themselves, often come to a bad end: eating noxious weeds, falling in crevasses, and destroying their pastures. May we follow you and you alone and enjoy the bountiful life you give us. In Jesus' name I pray this. Amen.
Hymn for the Week:
The Lord's My Shepherd
by Francis Rous, 1650
The Lord's my Shepherd, I'll not want;
he makes me down to lie
in pastures green; he leadeth me
the quiet waters by.
My soul he doth restore again,
and me to walk doth make
within the paths of righteousness,
e'en for his own name's sake.
Yea, though I walk through death's dark vale,
yet will I fear none ill,
for thou art with me; and thy rod
and staff me comfort still.
My table thou hast furnished
in presence of my foes;
my head thou dost with oil anoint,
and my cup overflows.
Goodness and mercy all my life
shall surely follow me;
and in God's house forevermore
my dwelling place shall be.
Devotional Article for the Week:
A Walk with Our Shepherd
What does it really mean for us?
by Anonymous
I'm not sure on what David originally wrote down the famous shepherd psalm. It probably was sung in the field to calm his sheep before it finally made it into written form. Yet this psalm has brought comfort to millions over the years.
With the words to the psalm are simple reflections on the meaning of each phrase. No one is quite sure of the origins of these simple reflections. Hopefully the words and the reflections will be a reminder to each of us how much God loves us and longs for us to build our lives around our his grace.
The Lord is my Shepherd … — that's relationship!
I shall not want … — that's provision!
He makes me to lie down in green pastures … — that's rest!
He leads me beside the still waters … — that's refreshment!
He restores my soul … — that's healing!
He leads me in the paths of righteousness … — that's guidance!
For His name's sake … — that's purpose!
Yea, though I walk through the valley of the shadow of death … –that's testing!
I will fear no evil … — that's protection!
For You are with me … — that's companionship!
Your rod and Your staff, they comfort me … — that's security!
You prepare a table before me in the presence of my enemies … — that's hope!
You anoint my head with oil … — that's consecration!
My cup runs over … — that's abundance!
Surely goodness and mercy shall follow me … — that's blessing!
All the days of my life … — that's faithfulness!
And I will dwell in the house of the LORD — that's home!
Forever! — that's eternity!