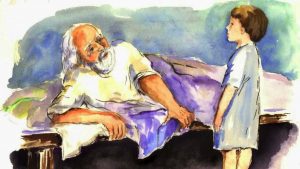 Daily Bible Readings:
Monday, January 11. Read Numbers 15:30-31. 1) In the first giving of the Law to Israel, this warning was given. What is Israel to avoid? 2) What will be the result of violating this warning? Compare to 1 Smauel 3:12.
Tuesday, January 12. Read Judges 2:6-9. 1) What did the people of Israel begin doing when they occupied Canaan? 2) Who was the leader of the nation up to this point?
Wednesday, January 13. Read Judges 4:1-3. 1) This text describes the cycle that Israel kept repeating. What did Israel do when Ehud, their judge, died? 2) What happened to Israel as a result? And how did Israel respond to that?
Thusday, January 14. Read Amos 8:11-14. 1) What did Amos say was about to happen to Judah? 2) Why was Amos saying this to his people?
Friday, January 15. Read 1 Samuel 1:1-28. 1) Who is Hannah and what was her condition? 2) What did she do as a result? 3) What was the outcome of her prayer?
Saturday, January 16. Read 1 Samuel 3:1-20. This is Sunday's sermon text.
Prayer for the Week:
Dear God, we are reminded that you are a God who makes ears tingle. A God who has lofty designs and is not content with people who live for themselves and not for you. Give us a heart to follow you in the redeeming work you are doing bringing the Kingdom of Christ to completion in this world. In Jesus' name. Amen.

Hymn of the Week:
God Moves in a Mysterious Way
by William Cowper, 1774
God moves in a mysterious way
His wonders to perform.
He plants his footsteps in the sea
And rides upon the storm.
You fearful saints, fresh courage take;
The clouds you so much dread
Are big with mercy and shall break
In blessings on your head.
His purposes will ripen fast,
Unfolding ev'ry hour.
The bud may have a bitter taste,
But sweet will be the flow'r.
Blind unbelief is sure to err
And scan his work in vain.
God is his own interpreter,
And he will make it plain.
Devotional Article of the Week:
God Calls Samuel
by Phil Ware
Among God's leaders during this time was Samuel, the last of Israel's judges. Before his birth his mother dedicated him to God's service, and when he was just a child, she took him to Shiloh to be an apprentice to the high priest of the tabernacle. Although Eli, the high priest, had constant trouble with his own evil sons, Samuel was a willing student. And God had plans for him that no one could have predicted. Samuel would, in fact, be taught by God himself.
The corruption of Eli's sons mirrored the nation itself. Many people had turned to worshiping false gods, and God had again grown displeased with his chosen people. It had been a long time since anyone had heard God's voice, and most had stopped listening. That was about to change.
Beside the glow of God's perpetual candle in the tabernacle, young Samuel lay down for the evening. Four times he was awakened by a voice calling out in the darkness — "Samuel!" At first Samuel thought it was Eli, but the voice wasn't Eli's. It was God himself, calling Samuel by name. From that night forward, God and Samuel talked often.
God had special plans for this young man. As Samuel grew into manhood, God made him into a powerful national leader, a faithful prophet, and a dependable priest.
Reflection: Imagine the heart-pounding, attention-grabbing, soul-stirring experience of hearing God's voice in the darkness — calling you by name. Has there been a time when the ears of your soul heard God call you by name? Have you ever been quiet, totally quiet, long enough to hear him? God knows our names, and he calls us into service. Not until the end of time will he force us to listen.
1 Samuel 3:10, 19-20
The LORD came and stood there and called as he had before, "Samuel, Samuel!" Samuel said, "Speak, LORD. I am your servant and I am listening."