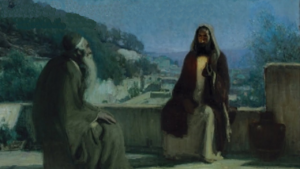 Daily Bible Readings:
Monday, May 24. Read Matthew 8:18-22. 1) What did the first guy in this text say to Jesus? 2) How did Jesus respond to him? Why? 3) What did the second guy say to Jesus as an excuse? How do you think Jesus regarded the man's excuse?
Tuesday, May 25. Read Romans 8:1-17. 1) How does Paul describe the Spirit in Romans 8:1-4? 2) What does the Spirit do within us (vss 5-8)? 3) When it comes to control of one's life, what choices do we have (9-11)?
Wednesday, May 26. Read 1 Timothy 2:5-6. 1) Who is the one mediator that is between us and God? 2) What did this mediator do for us?
Thursday, May 27. Read Titus 3:4-5. 1) Who/what is the "goodness and loving kindness of God" that appeared to us? See verse 4. 2) How did God "save us"? See verse 5.
Friday, May 28. Read Romans 10:5-13. 1) What did Paul say how Moses described becoming righteous? 2) By contrast, what did Paul say the basis of righteousness under the word of Christ? 3) How does God people who are often quite different?
Saturday, May 29. Read John 3:1-17. This is Sunday's sermon text.
Prayer for the Week:
God, the Giver of Jesus. The Lover of mankind. The Gracious and Patient one who has walked alongside us, longing for our company and our worship. God the Hound of Heaven who pursues us down the labyrinthine ways of time. We pray that you will help us to fully grasp the scope of Jesus' work and give our lives to dwelling in light that only you can give. In Jesus' name I pray this. Amen.
Hymn of the Week:
O Love that Wilt Not Let Me Go
by George Matheson, 1882
O Love that will not let me go,
I rest my weary soul in thee.
I give thee back the life I owe,
that in thine ocean depths its flow
may richer, fuller be.
O Light that follows all my way,
I yield my flick'ring torch to thee.
My heart restores its borrowed ray,
that in thy sunshine's blaze its day
may brighter, fairer be.
O Joy that seekest me through pain,
I cannot close my heart to thee.
I trace the rainbow through the rain,
and feel the promise is not vain,
that morn shall tearless be.
O Cross that liftest up my head,
I dare not ask to fly from thee.
I lay in dust, life's glory dead,
and from the ground there blossoms red,
life that shall endless be.
Devotional Article of the Week:
Becoming a Citizen
What's the easiest way to become a citizen?
by Tim Archer
A friend of mine recently became a citizen of the United States. After living in this country for a number of years, she decided to become a citizen. She filled out the necessary forms, took the tests, made the pledge of loyalty to this country and, of course, paid the required fees. It's quite a process.
I did the same thing in a much simpler way: I was born a citizen. No forms (at least not filled out by me!), no tests, no pledge, no fees. All I did was be born in the right place. My children did me one better. Not only were they born citizens of the United States, they were also born Argentine citizens. Two kids, four passports.
They're not the only ones with dual citizenship, however. Even though I don't have the passport to prove it, I am also a citizen under another jurisdiction. I'm a citizen of God's kingdom. I'm not a naturalized citizen; I was born into that kingdom. In fact, there are no naturalized citizens in God's kingdom.
During Jesus' public ministry, a man named Nicodemus came to see him. While talking with Nicodemus, Jesus told him, "I tell you the truth, no one can enter the kingdom of God unless he is born of water and the Spirit" (John 3:5). It takes a second birth to become a citizen of God's kingdom, a birth involving water and the Spirit.
The apostle Paul talked about this new birth when he wrote: "We were therefore buried with him through baptism into death in order that, just as Christ was raised from the dead through the glory of the Father, we too may live a new life" (Romans 6:4). When a believer in Jesus is baptized, he is buried under the water and comes out with a new life. It's a new birth. In writing to Titus, Paul called this act "the washing of rebirth and renewal by the Holy Spirit" (Titus 3:5). Rebirth… new life… born again… it's all the same concept.
Years ago I was born into this world, becoming a U.S. citizen. Almost 13 years later, I was born a second time, when I was baptized, becoming a citizen of God's kingdom. Despite my lack of a passport, my second citizenship is every bit as real as my first one and much more important. Long after all passports have turned to dust, I'll still hold my heavenly citizenship.
If you want to become a citizen of God's kingdom, there are no tests to take, no forms to complete, no money to pay. There are no naturalized citizens in God's kingdom. All citizens of God's Kingdom are full-fledged, honest-to-goodness authentic members. Period.