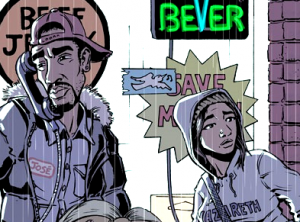 On Sunday we awarded a pizza dinner to Jenell Barnes for finding the most clues in the Jose and Maria cartoon, posted in Currents.  You will find the sheet of clues at the link below.  Check it out and have some fun looking at how a Christian artist made a powerful social comment in this wonderful cartoon.
It was also nice to read more about this Christian artist, Everett Patterson.  He lives in Portland, attends a "rad" church, and has a cool website devoted to his work.  This link will take you to a page that talks about the Jose-Maria artwork.  If you want to know a little more about the artist himself, go to this link.
Finally, if you want to see the clue sheet to see where all the Nativity clues are you can click on the link below.  It's great fun, and I hope you will allow your curiosity to take you into this neat exercise.